Our Team
"Proudly partnering the Toowong community for over 30 years".
The practice moved from its original premises near Benson Street into Toowong Village when the shopping centre first opened in 1986. The practice has remained in its current premises since then with Dr Glen Harvey taking over in early 2003.
Introducing the Toowong Village Dental Team

Dr Glen Harvey
BDSc (Hons) Qld, Grad Dip Clin Dent (Oral Implants) Syd, MClinDent (Oral Surgery) Qld
Glen graduated in 1993 from the University of Queensland and offers treatment in all facets of general and cosmetic dentistry.
Glen completed a post graduate specialist degree in Implant Dentistry from Sydney University in 2011. At a very competitive rate, he can perform the whole implant process from initial CT scans and diagnosis to surgical insertion of the implant, and finally fitting the crown to create the new permanent tooth.
In 2019 Glen completed his second post graduate degree from Griffith University in Oral Surgery. This has broadened his skill set to enable him to treat patients with complex oral surgery needs. He's able to diagnose, treat or perform surgery to resolve injuries or issues in the face, jaws and hard and soft oral tissues. 
In accordance with this treatment, we offer monthly in-chair dental treatment under IV Sedation with the assistance of Dr Christine Cordery, our Dental IV Conscious Sedation Practitioner. This allows patients who wish to have treatments, such as wisdom teeth extractions and root canal therapy, performed by Glen in our surgery and be sedated for the procedure. It's more cost effective than being in hospital, and patients feel more comfortable having this procedure performed by their dentist in their surgery.

Dr Jacky (Yu Chuan) Yu
BOH (OHT), BOH (DSc) (Hons), Grad Dip Dent (Qld)
Jacky has been in the dental industry since 2009 and graduated as an Oral Health therapist in 2012. He then continued his study into a dental degree and graduated as a Dentist from Griffith University in 2017. He is of Taiwanese heritage and grew up in Brisbane.
Jacky is known by his patients and colleagues as a gentle and friendly character and provides excellent care for his patients. Jacky enjoys all aspects of dentistry and has a special passion for preventive care, restorative dentistry (fillings) and gum treatment. He is committed to maintain and further his skills by regularly attending courses and seminars.
Jacky is tri-lingual, speaking fluent English, Mandarin and Taiwanese (Hokkien).
Dr Christine Cordery
BDSc(Melb) Grad Dip Clin Dent (Consc Sed and Pain Control) AHPRA Endorsed Conscious Sedation Practitioner
Christine is a fully qualified dentist who has an additional specialist degree in Conscious Sedation. She spends a day a month at the surgery where she administers medications (a mix of sedatives and strong pain relievers) intravenously to patients in the dental chair. This induces a state of calm and drowsiness so as to allow our dentists to do treatment on those patients with a high dental anxiety.
Lila Garces, Shanna Rice and Kim Shawford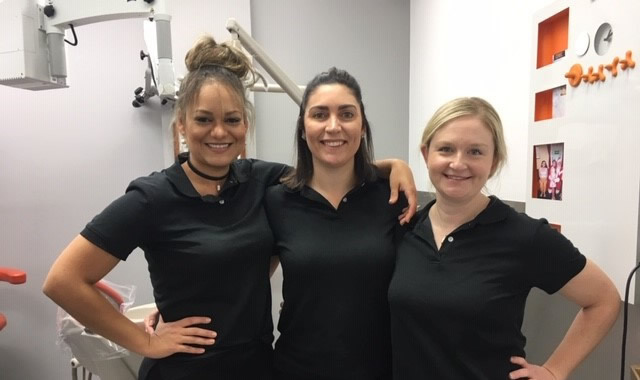 Lila Garces, Shanna Rice and Kim Shawford all hold a Certificate 3 in Dental Assisting qualification and have a broad understanding of all facets of chair-side dental assisting. Their role within the practice is focused on patient care and with over 20 years of shared work at the practice, they know our patients well and enjoy 'catching up' with them when patients arrive for their regular appointments.
Ph: 07 3870 7443
Level 2, Toowong Village Tower
9 Sherwood Rd
Toowong  Qld  4066
(right next to Fitness First)